WOTM Scholarship Fundraiser
Join us as at this fun event to raise money for WOTM's scholarship programs
Women of Today's Manufacturing, WOTM, is an amazing organization with many benefits for our students and business partners. I'd like to invite you to attend our annual fundraising dinner next month at Franchesco's.
You won't want to miss this time of networking, raffles, silent auction and the opportunity to sit back and learn from our inspiring speaker! We'll also provide you with details on WOTM as an organization providing what we do and the direction we're going!
Please access the link below for more information and to reserve your spot today!
Please join us for a night of dinner, drinks, and silent auction to support the WOTM scholarship fund.
About this Event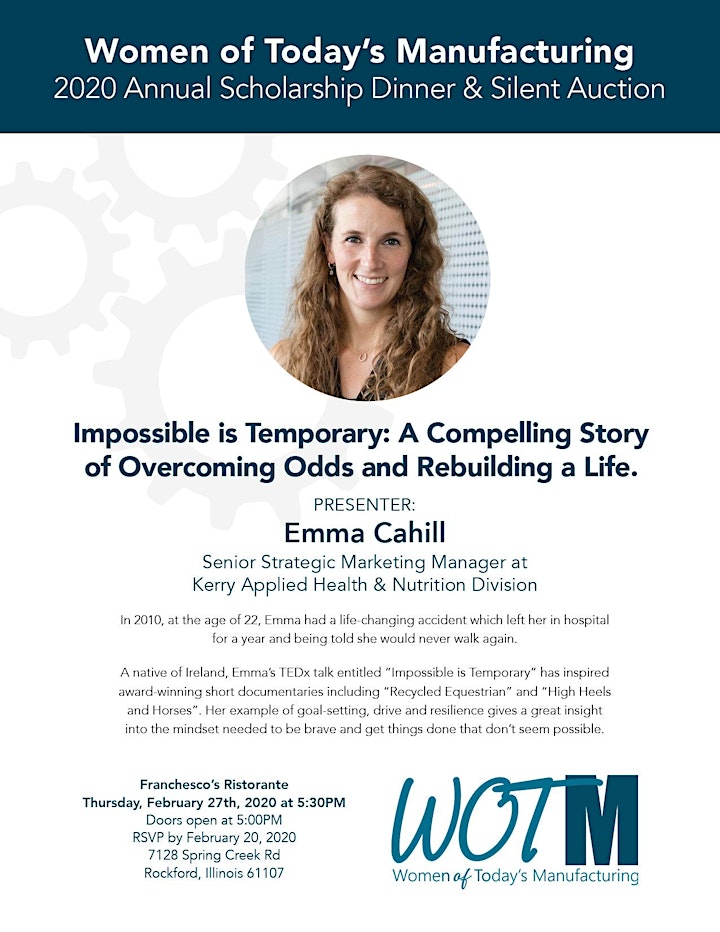 Emma Cahill – Senior Strategic Marketing Manager at Kerry Applied Health & Nutrition Division
In 2010, at the age of 22, Emma had a life-changing accident which left her in hospital for a year and being told she would never walk again. A native of Ireland, Emma's TEDx talk entitled "Impossible is Temporary" has inspired award-winning short documentaries including "Recycled Equestrian" and "High Heels and Horses". Her example of goal-setting, drive and resilience gives a great insight into the mindset needed to be brave and get things done that don't seem possible.